The Officers and Directors and the general membership extend you an invitation to become a member of our club. We would like to let you know what we have accomplished and what we hope to accomplish in the future, how our club operates, and how you as a new member can help your club continue to grow. We believe you will come to feel, as most of us do, that the Lake Hickory Shag Club will become a second family for you and an important part of your life. If at any time we can answer any question for you, your officers and directors stand ready to serve you.
The goal of the Lake Hickory Shag Club is to promote and preserve shagging and the heritage of beach music. We will provide a place and opportunity to learn shagging and organize activities for the membership to enjoy music, dancing and fellowship.
Our History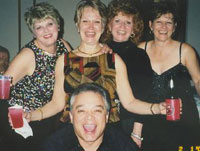 Lake Hickory Shag Club was organized in March, 1987 by Ann Sigmon and Jim Dingler who were lovers of Shag dancing and who wanted to share this love and experience with others in the Hickory area. For twenty years Shaggers and "beginning" Shaggers have gathered at Lake Hickory Shag Club for dancing and fellowship. Over the years people have come and gone and the meeting place and times have varied. Lake Hickory Shag Club meets at the Hickory VFW located at 1615 12th Street Drive NW, Hickory, North Carolina.